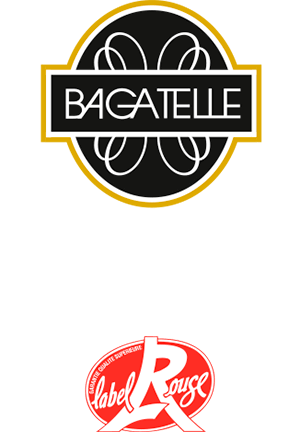 FLOURS - FARINE DE MON PERE
To ensure superior quality: these flours are the result of a whole sector engaged in a quality approach, from wheat producers to millers.
The Minoterie Bourseau is a committed player in the sector, and registered the name "Farine de mon père" (Flour of my father) to manufacture the 3 spécifics flours: T45 Gruau, T65 and T80.
THE WHEAT OF OUR CAMPAIGNS used to make these flours is a wheat from Controlled Reasoned Cultivation (www.lebledenoscampagnes.fr).
The choice of wheat varieties is limited to a restricted selection called VRM (Variety Recommended by the Mill). VRMs are able to produce excellent quality French bread.
FARINE DE MON PERE T65

High quality bread-making flour containing no additives, no bean or soya flour. It is suitable for all high-end bread making and more particularly for the production of traditional French bread, which respects a traditional bread making method, in accordance with the 1993 Bread Decree.
FARINE DE MON PERE T45 Gruau

Flour specially adapted for the manufacture of Viennoiserie and Pastry products based on leavened dough and puff pastry. Made with wheat of high strength that allows the production of a flour whose protein quality (≥ 12%) is optimized. These proteins are essential for the production of leavened and puff pastes. It is 100% flour: no additives, no improvers, no ingredients added
FARINE DE MON PERE T80 "Custom-made" flour for artisan bakers.
Its standard extraction rate of 80 makes it possible to follow the recommendations of the PNNS (National Nutrition and Health Programme), which recommends an evolution of the supply and consumption of bread towards more complete products.
Three-quarters of the minerals and vitamins are contained in the husk and germ of the wheat grain, so it is important to "take care of" it when grinding. Grinding on stone wheels preserves these elements and their nutritional qualities: the wheat grain is crushed gently and without heating.
It is 100% wheat flour: no additives, no improvers, no additives added